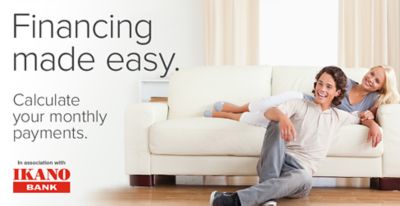 Style and affordability go hand in hand at Harveys
Now we've made Harveys furniture style more accessible than ever before - with a great finance package available to spread the cost. Harveys, the furniture store ensure that you don't have to compromise on the furniture that you have in your home by providing an easy to use finance solution to suit your every need.
Interest Free Credit (IFC)
Payment starts approximately 28 days after delivery has taken place.
Finance Options are available on item(s) of £250.00 and over.
Orders valued over £250.00 take 6, 12, 24, 36 or 48 Months
And now for the small print
Harveys Furniture acts as a credit intermediary and only offers credit products for Ikano Bank AB (publ). Ikano Bank is authorised in Sweden by the Finansinspektionen, - the regulator for Banks in Sweden, and is subject to limited regulation by the Financial Conduct Authority. Ikano Bank is a trading name of the UK branch of Ikano Bank AB (publ), which is registered with branch number BR016253. The registered office of the UK branch of Ikano Bank AB (publ) is Waterfront House, Waterfront Plaza, Station Street, Nottingham, NG2 3DQ